The recent invitation for readers to ply (Bed Bug) Helloise with requests for advice gave way to a discussion of products which make it easier to get rid of bed bugs, or prevent reinfestations. Although some would argue that furniture does not need to be discarded, some of you have gotten rid of wooden furniture, especially old stuff without sentimental value. Others have not discarded anything but are nevertheless in the market for new furniture and solutions to storage issues.
Those of you who battled light infestations might not need to shop in this way, but for those who live in multi-unit dwellings, where the possibility of reinfestation is there, or if you just want the peace of mind of knowing that your all-metal bed frame or glass and metal table are not ideal bed bug homes, it's worth giving this some thought.
Personally, my home design tastes run toward the Ikea pine end of the spectrum; I always liked me some nice light-colored wood, and had a distaste for metal futon frames, glass tables, and the like.
But once I met Mr. Cimex Lectularius, my wish list moved away from wooden television stands and computer armoires (I'd been coveting that one for several years), to metal and glass, alas.  Here's a nice find from cb2.com, the Trig Desk (Crate and Barrel's newer division):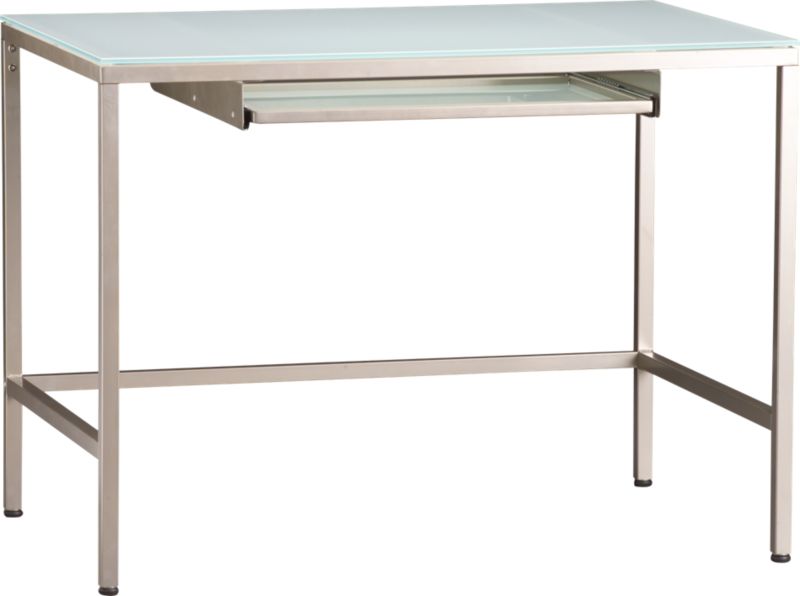 (Disclaimer: bed bugs can live in the joins and screwheads of metal furniture just as well as in wood; however, the wood itself provides lots more opportunities for them.)
I am going to paste the suggestions here which came up, since they may have been lost under the Helloise banner.
If you have a product or type of product (besides insecticides, plastic bags, and so on) that has helped you fight bed bugs (or makes you sleep better once they're gone), please add a comment below, with links if possible. We're talking furniture, storage solutions: products or clever solutions. We're not trying to sell anything, so much as to give people new ideas.
Here were the suggestions for wire shelves, metal daybeds (for beds/ sofas):
http://www.nexelshelf.com/1/n1.pdf
This is a company that sells wire shelving and industrial products. I purchased some wire shelving from them. I think they sell it retail and wholesale. This particular shelving was not cheap but it is really good. It is an investment for life. I got the adjustable shelving -polybrite finish- I have four units, some with three shelves some with four shelves. The first shelf is well above the ground, as they are adjustable you can put them at any height you like. The poles are all metal. I have the bottoms of the poles sitting in little rubber furniture protector/cups that I purchased at Home Depot. I have oil inside the cups which themselves are tall and thin..they are like the ends one would find on a cane to protect the bottom of the cane. They don't have a wide mouth so they hold the oil well and don't spill over. I have them away from the wall, free standing. I have put all of our socks, underwear, jeans, any foldable clothing, inside plasic bins that sit upon the wire shelving. The reason I like these shelves is because they are sturdy, they will not knock over, which makes them good for people with children. I am certain there are other less expensive wire shelves, but wanted to pass the idea along because this makes for good bed bug furniture. Everything is out in the open, easy to see and accessible. Please contact me for any help. deb
Costco has a nice wire shelving unit in their stores (not online) — large, 6 shelves, assembled with feet (rather than casters, also included). It was under $75. Could be made into two units as well, very solid.
Helloise's suggestion:
Helloise tells me she has seen a lot of black metal daybeds in various stores–they're not as comfortable as a sofa or bed, alas, but for people without much furniture, perhaps a twin size bed / seating is something useful.
Deb says:
Here is a great catalog that contains very good "bed bug" tools. I phoned them and they sell to the public. For example, Here are some great items in the war against bed bugs Vac Blo. "super suction" 7 lb. vacuum with upholstery and crevice tools. This is like the ones that exterminators use to vacuum around door and window moldings and staircases. Then they sell long Shrink Wrap which can be used to hermetically seal all kinds of things like paintings, small peices of furniture, toys, if done properly the bed bugs will be sealed in and they will die .also they sell large plastic containers good for storing items. The website is www.globalindustrial.com toll free number is 1800 645-1232 deb
Now, I know you have some great suggestions. Click "comments" above the message to add them below. And remember, you can use a pseudonym and fake email if you're worried, but take Jess's advice and please be creative with the nickname you choose! And keep using it, so we remember you. Thanks!